VIRTUAL ASSISTANTS
Everything you need to know.
From why to hire a Virtual Assistant and how much a Virtual Assistant costs to finding the best Virtual Assistant agency to partner with.
As a team, we have nearly thirty years' experience recruiting Virtual Assistants across the UK and overseas. Businesses and individuals alike have found that hiring a Virtual Assistant can have a number of benefits, however, finding a Virtual Assistant to be an extension of you, fit into your business seamlessly and start adding value from day one isn't always plain sailing. Below we share all of our expertise when it comes to hiring a Virtual Assistant.
What is a Virtual Assistant?

The Virtual Assistant (VA) role has become increasingly popular over the last few years and even more so as a result of the COVID-19 pandemic. A Virtual Assistant is someone who provides personal, executive or business support services from a remote location. The term "VA" is broad, covering a plethora of roles that provide administrative, creative or technical support services remotely.
Whilst a VA typically works remotely, there are roles where Virtual Assistants are required to also provide onsite cover, whether regularly or on an ad hoc basis. Virtual Assistants can provide support from as little as a few hours a week, up to full-time hours; and positions can be permanent or can be on a fixed-term or temporary basis.
Typically, Virtual Assistants are self-employed business and secretarial support professionals, who work for a client (or multiple clients) from a remote location. Whilst there are some VAs who solely work for one company, taking on various different projects and tasks for them, much like a direct hire, there are other VAs who work with multiple clients and focus on a number of different projects at any one time. In addition to this, there are now Virtual Assistant recruitment companies, such as our Virtual Assistant offering, that will match you or your business with an appropriate VA to assist with tasks, such as administration, project management, social media marketing, data entry and management, market research, and bookkeeping, to name but a few.
The specifics of the Virtual Assistant role can differ considerably, depending on the client's requirements, and you will often hear the VA role require to as a "Virtual Personal Assistant", "Virtual Executive Assistant" or "Virtual Secretary". Many VAs, are highly experienced PAs, EAs or administrative professionals who have transitioned into the Virtual Assistant field seeking more flexibility than is typically on offer for onsite roles of this nature. As such, VAs can provide a plethora of services, from managing travel itineraries and complex diaries, to organising meetings and events, running personal errands, lifestyle management, and anything in between.
Benefits of Hiring a Virtual Assistant

Hiring a Virtual Assistant can have a multitude of benefits for you and your wider business. Virtual Assistants are a fantastic way of getting the most out of your day, ensuring that you utilise your time as effectively as possible and can focus on growing your business, whilst they adeptly manage the everyday demands of seamlessly running an office.
We know that as a busy executive or overworked entrepreneur, with a seemingly never-ending "to-do" list, your time is precious. In fact, we'd argue that time is your most value asset. We constantly hear business owners say that there aren't enough hours in the day or that they wish they had another pair of hands. Hiring a Virtual Assistant is the perfect solution to this problem; the right Virtual Assistant hire will be indispensable to you and your wider company, maximising your time and productivity, and ensuring that you prioritise the tasks that motivate you and enhance your business.
Every moment that you can free up to focus on the growth and development of your business counts. A successful VA is a true extension of you and, over time, will be able to anticipate your needs and have everything in place, without you having to think about the minutiae.
"If you don't have an assistant, you are an assistant."

Jeff Hoffman, Founder of Priceline.com
The biggest benefits of hiring a Virtual Assistant include:
To add strategic input and help to grow your business

To build relationships

To give you time back in your day

To keep you organised

To solve business problems

To act as a decision-maker

To strengthen your culture and brand

To boost your productivity

To enable you to have work/life balance
When it comes to the benefits of hiring a Virtual Assistant over an in-house employee, there are a multitude of advantages to consider: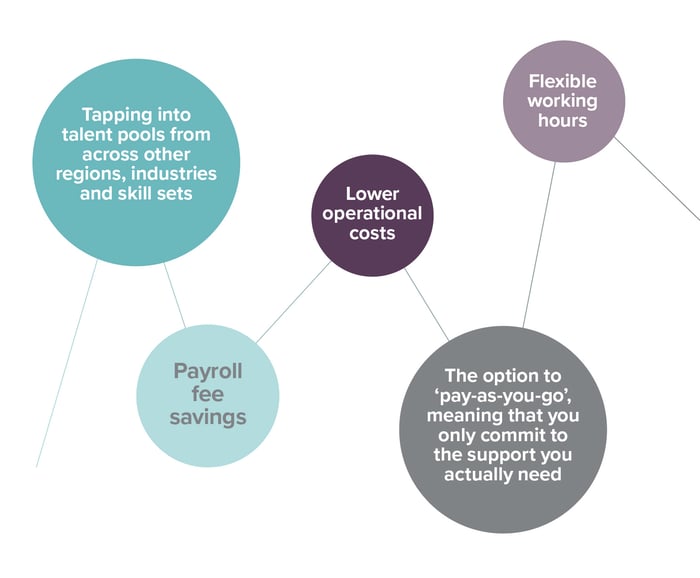 The Virtual Assistant role can be tailored to fit the needs and requirements of your business and often has many crossovers with the more traditional Personal Assistant or Executive Assistant roles. A Virtual Assistant's role may encompass purely administrative, transactional support, similar to that of the traditional PA role, whereby their objective is to alleviate the administrative burden from the individual(s) they support, so that their principal's time can be dedicated to other areas which will further the business's success. On the other hand, a more senior, strategic Virtual Assistant can be likened to a strategic EA, in that they fully understand the strategic objectives of the business, and the executive whom they support, and they proactively identify business needs and opportunities to ensure that those objectives are achieved.
Undoubtedly, the role of the Virtual Assistant is to make things run more smoothly and alleviate precise time pressure on executives and senior business leaders.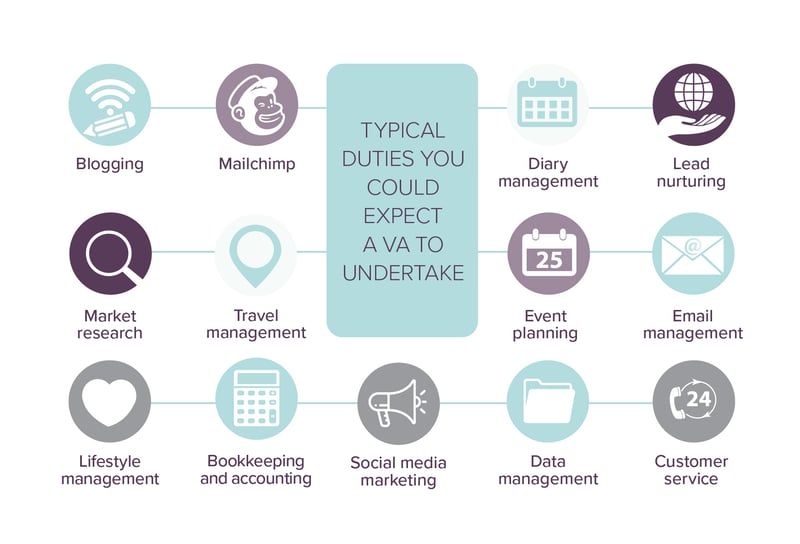 Whilst it can be difficult or challenging to quantify the value that a Virtual Assistant adds to the bottom line, one way to view it is as a percentage of the time, and therefore the salary, of the executive or executive team that they support. Senior Virtual Assistants can give executives up to 80% of their time back to focus on other imperatives to enhance the business – how much do those initiatives add to the bottom line, too?
In that sense, you could view the VA role as a gatekeeper, not of people, but of time. The right Virtual Assistant hire can give you back your time and maximise your return on investment to the business. When you consider that executives spend, on average, 58% of their time on emails, a simple email triage system implemented by a Virtual Assistant can reduce the time spent on emails to circa 12%. Instantly, an executive has 46% of their time back, to add value elsewhere.
Facilitating business growth is, of course, just one element of the role, when you add in the cost savings that a commercially-astute Virtual Assistant can bring in terms of travel, events and leveraging technology to enhance and streamline processes and procedures, the financial benefit for the business grows exponentially.
"The manager and the assistant do the same job, they have the same objectives, they simply carry out different tasks to achieve those objectives."

Heather Baker, Founder of Baker Thompson Associates
A Virtual Assistant is an investment in yourself and your business; every successful entrepreneur needs one. Used effectively the benefits will outweigh the cost of an extra wage tenfold - just think about how much more time you will have to apply yourself to the growth, marketing and development of your business by delegating your workload. Imagine the amount you could achieve when your day isn't being consumed by other, more admin-heavy tasks, allowing you to focus your time where it should be: on your business.
How to Use Your VA Properly
When it comes to ensuring that you're utilising your Virtual Assistant effectively to maximise productivity and return on investment, Lucy Brazier, CEO of Marcham Publishing, has some fantastic advice. After all, why wouldn't you want to gain up to 80% of your working day back?
Administration and business support

Diary management

Booking appointments

Time management

Lead nurturing

Blogging

Scheduling events

Travel planning and itineraries

Inbox management

Social media marketing

Minuting meetings

Following up on action points

Dealing with correspondence and phone calls

Expense management
Mailchimp or HubSpot tasks

Streamlining processes and implementing procedures

Managing databases and filing systems

Preparing reports, presentations and correspondence

Bookkeeping and accounting

Building and nurturing client relationships

Market research

Project support

Lifestyle management and personal tasks

Liaising with key internal and external stakeholders

Recruitment

Data and CRM management

Customer service
HOW TO HIRE A VIRTUAL ASSISTANT
There are various ways of going about hiring a Virtual Assistant.
Firstly, it's important to decide how much support you are looking for a Virtual Assistant to provide. Whilst eight hours a week of Virtual Assistant support can sound like a lot, if you have a never-ending to-do list, it might not be enough. A good exercise can be to look back at the last twelve weeks of your diary and see where you've spent your time, writing a list of the duties that you did yourself that could be completed by a Virtual Assistant instead.

Once you've decided on the amount of support that you're looking for, it's time to look at where you are going to recruit a VA from. Do you need them to be based near you, or are you happy to have a Virtual Assistant based in the UK who will support you entirely remotely?

Next, find a Virtual Assistant company that can assist you with your search. Typically, if you contact a Virtual Assistant recruitment company with your requirements, they will connect you with a VA that's a good fit for your company, culture and values. A Virtual Assistant agency generally has a rosta of VAs who are available to start supporting you immediately.

Our Virtual Assistant division was set up in 2020 and our offering is fully customisable, flexible and tailored to your specific needs. So, whether you're looking for someone to manage your diary, plan an upcoming event on your behalf, manage your social media strategy or assist with personal duties, on a part-time, full-time, ad hoc or temporary basis, we're confident that we'll have the perfect Virtual Assistant for you.
The process of hiring a Virtual Assistant with Lily Shippen couldn't be more simple; all we need is:
An initial consultation to understand your needs and requirements

A minimum commitment of 10 hours

Confirmation of any additional services or add-ons that you may require

A face-to-face or video meeting with your matched Virtual Assistant

Access to your systems to enable your Virtual Assistant to support you efficiently and effectively from day one

A commitment to regular catch-ups with your Virtual Assistant to ensure an effective and productive working relationship
VIRTUAL ASSISTANT UK RATES
How Much Does It Cost To Hire a Virtual Assistant?
There are a number of factors to consider when looking at the cost of a Virtual Assistant. Typically Virtual Assistants work to an hourly rate, although you can also hire a permanent Virtual Assistant on a full-time annual salary.
The most popular way to hire a Virtual Assistant is on an hourly rate. Many employers, particularly start-ups and entrepreneurs, opt for this option as you do not have to pay National Insurance or pension contributions in addition, as you would with an in-house employee. Instead, you will engage a Virtual Assistant recruitment agency, such as our Virtual Assistant offering, and pay an all-inclusive rate. Hiring a Virtual Assistant also, typically, results in savings when it comes to overheads, such as office costs, making it an attractive way to hire executive and business support talent for your business.
Hourly rates for Virtual Assistants in the UK tend to be in the region of £28 - £35 per hour for more senior, or specialist, VAs, and circa £20 - £22 per hour for more junior support, such as data entry and administration.
A full-time, permanent VA position would attract an annual salary of £30,000 - £35,000 per annum, albeit it is worth bearing in mind that, in this scenario, the employer would be eligible to pay National Insurance, pension and holiday pay on top of this.
Our 2020/21 Salary and Market Insights Survey explores Virtual Assistant salaries and benchmarking in more detail, as well as investigating the impact that COVID-19 has had on the sector and what the future of the profession holds.
WHY PARTNER WITH LILY SHIPPEN?
Since launching in 2016, we have carved out a reputation as the go-to specialist for connecting start-ups, high net worth individuals and blue-chip companies with exceptional executive and business and support professionals – both in the UK and internationally. We are proud to offer a range of tailored recruitment solutions to suit your company's needs and offer training and qualifications to upskill the talent that you employ.

Founded with the vision of building meaningful, long-term relationships with both clients and candidates alike, we take a proactive, personal approach to connecting high-calibre professionals with high-calibre employers.

We're experts at recruiting top business support talent. Across our team, we have nearly thirty years of experience recruiting PAs, EAs, Chiefs of Staff, Virtual Assistants, Receptionists, Executive Business Partners, Office Managers, private and household staff and everything in between.
Committed to delivering the highest level of service for our clients and candidates, our award-winning approach to recruitment enables exceptional support staff to fulfil their true potential and achieve optimum value for employers.

Our service is driven by knowledge. As a boutique, specialist executive and business support agency, our team have an unrivalled understanding of what excellence looks like across all levels of the profession.

Thoroughly vetting and getting to know every candidate that we represent helps us to tailor our recruitment service and set everyone up to succeed, ensuring that you secure the best talent for your business.